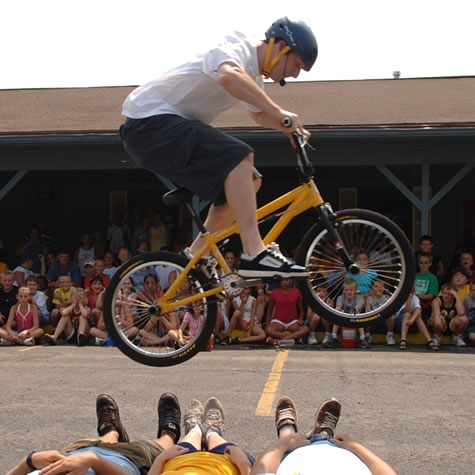 CHRIS POULOS
THE TRICK TO IMPROVING STUDENT'S LIVES!
Youth motivational speaker Chris Poulos is dedicated to improving the lives of young people and those around them. From his opening line to his closing quote, Chris captivates his audience like nothing you have experienced before. Chris is a multifaceted speaker featured at schools, colleges, and youth conferences throughout the county.
Since 1988, audiences around the world have been riveted to Chris' words of wisdom and astonished by his athletic ability. Chris is truly in a league of his own, mesmerizing his audience with incredible bicycle stunts, while simultaneously engaging them on topics such as: respect, teamwork, bullying, cyberbullying, perseverance, self-discipline, mental health, and more. His energy and enthusiasm translate into a dynamic performance guaranteed to leave any audience spellbound.
Schedule "The Chris Poulos Experience" and have a real-life, world champion athlete spend the entire day and evening at your school, college, or conference. Chris' visit is more than just a performance; it's an event that will leave a profound and lasting impact on everyone in attendance!
Biography
Chris Poulos is the youngest of 5 siblings, born into a lower middle-class family in the inner city of Providence, Rhode Island. Although Chris received an extraordinary amount of love, affection, attention, and encouragement, growing up with ADHD caused him to be an extremely mischievous child. At age 2, Chris earned the nickname, "Trouble" (which his friends and family still call him to this day) when he disappeared from the backyard of his parent's home. After an extensive search by his family, neighbors, and the police, he was finally found over a mile away riding his tricycle down the middle of a busy avenue. At Age 3, Chris' parents had to call the fire department to get him off the roof of their two-story home. At age 5, Chris got his hands on his father's circular saw, snuck into the attic, and cut a gaping hole in the roof of the house. At age 6, Chris finally found an outlet for his boundless energy and creativity when he started performing stunts on a bicycle!
Since 2000, Chris has become one of the most sought after youth motivational speakers in the country. Chris is the go-to-guy for schools, youth & teen conferences, and colleges that want to improve the character and self-esteem of their audience. Chris presently performs at over 150 locations per year.
Unlike many professional athletes, Chris has no sense of entitlement. He prides himself on being a humble, down to earth, regular guy, who is extremely grateful for all that he has been able to do in life. His motto is simple: "Success is not what you have. Success is what you do."
Chris speaks in a straightforward way that young people can easily understand. He does not spout statistics or offer a "10 Step Program". Instead, he uses anecdotes and experiences from his life as a world champion athlete to get the message across to young people. "I'm a motivational speaker who rides a bike. That's my hook!" Chris instantly connects with his audience because they know he is real. He uses this connection to skillfully deliver content that the audience can immediately use to improve their own lives, as well as the lives of their peers.
In addition to being a world champion athlete and youth motivational speaker, Chris is the author of the new book, "Get The Most From Your Teenage Years: A Formula For EXTREME Success", which will be hitting the bookshelves in 2016.
When not educating, motivating, and captivating audiences across the country, Chris enjoys spending quality time at home in Rhode Island with his 18 year-old daughter, Christa, and 16 year-old son, Todd. Chris believes that the most essential part of being a good role model to young people is first being a good father to his own children!
Speaking Programs
SCHOOL ASSEMBLY
Chris will incorporate the messages that specifically relate to your students and go right to the core issues, inspiring your students to make positive changes that will last long after the assembly itself.
Chris' school assembly helps improve many aspects of the school environment. It helps raise academic success by increasing school spirit and reducing adverse behavior that is detrimental to learning. Chris' assembly is loaded with practical steps students can use to build self-esteem, develop resiliency, and establish a culture of kindness in their school. Chris' assembly comes from a positive, not a negative direction. He tells the story of how he worked hard, treated others in a positive way, and how making good decisions and avoiding negativity helped him to become successful in life, rise to the top of his sport as a world champion athlete, enjoy life, and have less stress.
Negative, at risk behaviors have one thing in common – a lack of character in the lives of students. Chris' school assembly program gives students tools to overcome negativity with peer leadership, positive choices, and character development.
Chris has the flexibility to incorporate any topic into his program. He has programs for single assemblies, half-days, or even district/region-wide weeks. Chris' wide range of options makes him easy to work with on both your school schedule and budget.
WORKSHOPS
Chris' workshops create a lasting impact on students by helping them to develop the necessary skills to succeed in the classroom and their community.
Whatever the topic, Chris' workshops are always fun, interactive, productive, and memorable. They challenge students to think outside of their comfort zone and to reach a higher level of understanding and confidence. During the workshops, students will have an opportunity to share their perspectives with their peers and learn their opinions in return. They will receive guidance and practical advice through healthy communication.
From leadership training, team building, communication skills, and more. Students will learn the practical steps for building self-esteem and developing resiliency; How to recognize and respond to negative situations; The importance of making positive connections with people that last forever; How to be a peer leader by helping others to make good choices.
ENTERTAINMENT
"The Bicycle Stunt Show" is a complete 180-degree spin from Chris's speaking program. This presentation is all about family fun & entertainment. It can be used as the culmination of "The Chris Poulos Experience" or as a stand-alone event. Throughout the show, Chris demonstrates his breathtaking stunts with exceptional balance and agility, while simultaneously taking the audience through the fascinating journey of how he developed his skills and rose to the top of his sport.
Although the show is strictly entertainment, Chris still shares many fascinating and funny moments from his career as a professional athlete. He will also give the audience a sneak peek at some of the new stunts he is currently learning. The show will conclude with Chris demonstrating his most difficult stunt. It's an exciting event no one will want to miss!
Reviews
"Chris was amazing! He went on our website and researched us and was able to put in our own personal things, which I didn't even ask him to do, so it was wonderful! I really think the kids got a lot out of it!". – Laura Stukenborg, – Elementary School Guidance Counselor, Troy, NY

---
"Right after your assembly I meet with a group of boys who had been bullying another student. I was able to use your performance as a springboard for our conversation. It was obvious your performance had a profound effect upon their attitudes." – Jamie Giordano – Middle School Principal, Waterford, CT

---
"The freshmen were captivated by your performance. Your visitations to the classrooms afterwards were particularly impressive. The students are still speaking of your performance many days afterwards." – Gregory Lisack – igh School Principal, Warwick, NY
Chris Poulos travels from Rhode Island