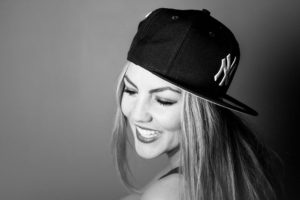 NATIONALLY RENOWNED SPEAKER
10 years, 100+ Cities and 250,000 + Lives Impacted
After 10+ years working with over a quarter million students nationwide, social emotional health expert and TEDx Speaker JULIA GARCIA is leading a generation of young voices to speak up, stand up and rise up TOGETHER.
JULIA GARCIA is extraordinary in her ability to create a culture of empathy and compassion on campuses. With her infectious energy, raw spoken word poetry, and powerful audience interaction, she creates a space for students to have a real experience instead of just attending an event.
Her diverse background, unparalleled passion, and PHD research make JULIA GARCIA one of the most dynamic and critical voices of our generation. In a digital era with overwhelming pressures and fake highlight reels, JULIA GARCIA is a refreshing a reminder that we are never alone and your story and your voice matter.
Biography
By age 20, JULIA GARCIA, had already set out on her mission to create safe spaces for students to feel seen, heard and be truly connected. After losing people close to her from drugs and violence, GARCIA was determined to be the voice she wished she had growing up. Her grasp of such a wide range of social economic challenges whether they be manifested by, childhood, hopelessness, self-esteem, or assault is staggering.
While spending the first 5 years of her speaking career as the co-founder of a motivational speaking arts CRU in Arizona, Truality, GARCIA worked extensively with local k-12 schools, juvenile detention centers and outreach organizations.
Recently, GARCIA helped coach inmates for the first TEDx event in a women's prison, where she was also a featured speaker. She is the creator of an award winning social impact campaign as well as a mission-based mobile app to improve social health on social media. As a published author whose spoken word videos have garnered over 60,000 views, she uniquely leverages art, education and technology to connect with students. Her commitment to support causes that create social impact in the community has also led her to become a certified trainer for advocacy and educational organizations such as and the Anti-Defamation League's No Place for Hate Movement and Kids at Hope.
JULIA GARCIA admits that she never set out to be a speaker, she just set out to speak up… Now she is leading the next generation of voices.
Speaking Programs
Assemblies
Program: YOUR STORY. YOUR VOICE: Stand up, Speak up, rise up TOGETHERTopics: Leadership, resiliency, reason we rise, social health & social media, diversity& inclusion
After 10+ years working with students from all walks of life throughout the country, JULIA GARCIA, found one common link across all campuses: Students are acknowledging in front of their peers that they've struggled with feeling alone or misunderstood.
No-matter which topic GARCIA is covering, be it diversity & inclusion, leadership, social media, or health and well-being, she quickly recognized that what students really need is a safe space to connect. GARCIA' interactive approach has toured and connected with hundreds of thousands of students all over the country! Join JULIA GARCIA in leading a generation of young voices to speak up, stand up and rise up TOGETHER.
WORKSHOPS / TRAININGS
Program: THE REWRITE PROJECT: I WAS I AM
Topics: Leadership, resiliency, & reasons we rise.
Through a series of inspirational stories and hands-on team building activities, JULIA GARCIA'S interactive workshops offer a vast array of learning opportunities for the entire campus. Each workshop consists of highly engaging activities and group discussions to work together to enrich culture on campus.
Reviews
Julia did a fantastic job of connecting with our very large group of students. She even met with smaller groups later in the day, giving specific students an opportunity to meet and talk with her. So many students were deeply impacted by her visit, they are still talking about her weeks later. Dean of Students – Dixie Clarkston Community Schools
---
It actually made me really emotional because I connected to a lot of stuff she was saying and I loved how everyone else was really involved with it and how many other people actually had similar experiences as I did."  Edna M – Junior at Arizona College Prep High School
---
I would recommend this program to any school as a way to send the message that we are all unique and have challenges in our lives, but we can overcome them and grow toward our greatest potential. Dr. Deborah Chavez – Principal – Tartesso Elementary School
---
In my 25 years, this is the best program I have ever seen.   – Seton Hall Univeristy
Julia Gracia travels from California.