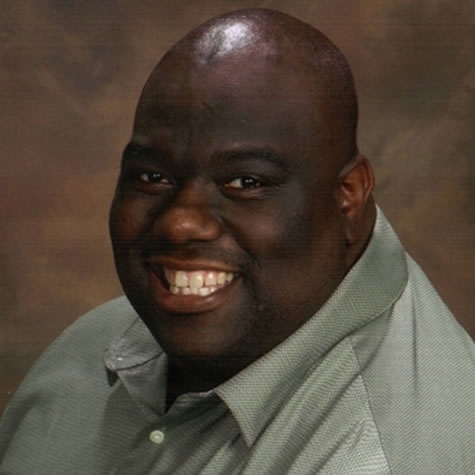 RICK MINNIEFIELD
BIG HEART! BIG SMILE! BIG MESSAGE!
Rick Minniefield is a big man with a big message! Expect results because Rick is going to fire up your audience in a BIG way. Rick helps teenagers realize they can achieve their goals and aspirations by learning some basic principles that build self-esteem and personal motivation.
His presentations encourage, inspire and challenge youth to take control of their lives and deal with difficult situations.
Biography
Rick speaks from experience. Raised in a busy family of 11 children, he found valuable support and guidance through athletics and leadership programs. He learned to make positive choices, commit, and exercise options. In the process, he became determined to lead a meaningful life. Rick currently works as a Health Educational Specialist and is active with Friday Night Live. He presents programs for at-risk youth and juvenile hall students and is active with the Neighborhood Watch program. He also works as an offensive line coach for a local college.
Rick knows it's not easy being a teenager. He is aware of the challenges that surround alcohol, tobacco and drug use. As a prevention specialist with Friday Night Live for 5 years, Rick has arranged prevention programs. His expertise also covers violence prevention and leadership training. He is widely known for his experiential leadership training and has been affiliated with Norm Hull's CORE Camps for several years.
With his million dollar smile and unique personality, Rick Minniefield will motivate your audiences to get the best out of life. Consider Rick for keynotes, assemblies, leadership conferences, retreats, senior programs, freshman orientation, prevention programs, violence prevention and baccalaureates.
Travels From: California
Book This Speaker Now!
Speaking Programs
Opening The Door For Success (Teenagers)
An experiential keynote that provides youth with the keys to successfully take control of their lives, and deals with the difficult situations facing youth today. Rick will share his personal experiences as well as the steps to make the right choices.
Courage Under Fire (Teenagers)
The life expectancy of Americans 16 to 24 years old has decreased while that of every other age group has increased. Why? Violence, alcohol and other drugs! Rick's keynote deals with how to beat peer pressure, boredom, poor role models, low self-esteem and negative societal influences.
Senior Day Seminar (Seniors Only)
Provide an opportunity for seniors to become closer as a class. Seniors will have a day of interaction, collaboration and get involved in positive activities that will help seize control of their lives and class. Rick will share the responsibilities that come with privileges.
Developing Today's Leaders (Teenagers)
Rick is an expert consultant and facilitator for student leadership conferences. At Rick's conferences student leaders have simple opportunities to gain valuable information and insight that will help them develop their own personal leadership skills. These skills, combined with the activities learned will help students return to their schools and create a positive environment on their campus.
Going The Distance (Freshman Orientation)
This program will make the freshman transition from junior high to high school a comfortable, exciting change. Freshmen have the opportunity to work with seniors and create "mentoring" relationships. They will leave this experience challenged and empowered to make the move into high school knowing they have a link to upper classmen.
Rick Minniefield travels from California