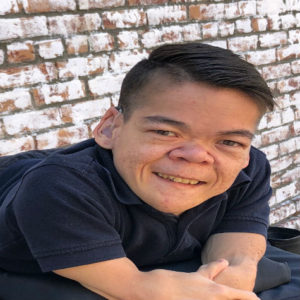 Josh was born in 1990 despite the doctors telling his parents that he had a fatal condition.  But this diagnosis was wrong.  He was eventually diagnosed with a dwarfism so rare, he has never met anyone like himself and may be the oldest person in the world with the condition.  Each and every bone in his body is misshaped including his ear bones, resulting in deafness.  He can't stand or walk so he relies on his power wheelchair to be his legs.      
Biography
Despite these obstacles, Josh was involved in student leadership during high schooland graduated with honors.  Josh has been to the White House to meet the President and has appeared on stages in Hollywood, San Francisoc andin New York in fundraisers with major stars.
Recently, Josh has developed a photography business.  If that is not enough Josh is an FAA licensed dron pilot.  Josh has found that it is notwho are or what you have that brings you happiness, but in serving others.  Since begining his speaking career while in high school, Josh has given talks to schools, churches, non-profits, business, foster care, and anyone who will listen!  Josh can share on self-image and self esteem, overcoming adversities, anti-bullying, and investing into others.
Reviews
Josh was terrific on all accounts. He contacted me ahead of the event to talk thru the day's theme so he could have context for his talk, this is a very important aspect for me when I bring in a speaker. He listened, I appreciated that. His talking points were exactly as we discussed and delivered message, content, and time period for speaking as asked. Josh also gave us additional time after his talk to spend with the students, which was terrific. The crowd, and 8th graders by nature, was difficult but he managed to break thru their ice. His humor, honesty, and authenticity were all great additions to his talk.
Stephen Morris – Santa Rosa Diocese
---
Josh Burger travels from California