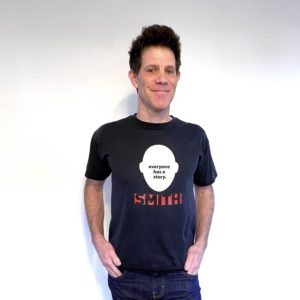 Larry believes everyone has a story, and has dedicated his life to creating a level playing field where everyone is empowered and inspired to share their stories. He is the creator of the Six-Word Memoir® project, a unique and addictive form of storytelling that has launched a global phenomenon that includes a website, bestselling series of books, board game, and live events. Oprah's O Magazine declares Larry is "on a quest to spark the creativity of aspiring writers." Larry has led workshops in companies across the world, but says is never happier than when talking with students and  seeing how quickly that start sharing Six-Word Memoirs that zip across auditoriums, spill into halls, and often find their way to the family dinner tables. As one teachers remarked, "Larry can turn any room into a place of inspiration and delight."
Larry first launched Six-Word Memoirs in 2006 with this simple online challenge: "Can you describe your life story in six words?" Now, more than one million stories have been posted on SixWordMemoirs.com, countless more shared on social media and anywhere groups of people connect—from classrooms, boardrooms, veterans' groups, and houses of faith.
Biography
Smith's ninth book of Six-Word Memoirs —Six Words Fresh Off the Boat: Stories of Immigration, Identity, and Coming to America (Kingswell/Disney) was recently published in collaboration with the hit ABC series, Fresh Off the Boat.
Larry is also a writer for places like The New York Times, ESPN Magazine, and Men's Journal where assignments have taken him to Bora Bora to do yoga with NBA stars; behind the wheel of a car to compete in a demolition derby race; and to the mountains of Mexico to profile one the few people who has successfully flown a jetpack. He lives in Columbus, Ohio with his wife, the writer Piper Kerman, and their son.
Speaking Programs
[Interactive Assembly Talk]
In November 2006, Larry Smith posed a simple question on a then-new platform called Twitter: "Can you describe your life in six words?" A selection of the submissions were soon published in a book, the first in a bestselling series featuring the work of writers famous and unknown. Six-Word Memoirs® then took on many new lives: a board game, a calendar, live events, and as popular lesson plan in classrooms worldwide.
Larry's high-energy, interactive presentation will take students on a journey from the small-town pharmacy where his grandfather "Smitty" inspired a lifelong love of storytelling, to the creation of a narrative platform that can engage and inspire students of every grade level, subject, and learning ability. He'll share some of his favorite Six-Word Memoirs, including examples from teens that students of all ages can relate to:
"Mom just revoked my creative license"
"Ambition triggered beast mode in me."
"We're the family you gossip about."
"I never got my Hogwarts' letter."
Smith will also lead a "Six-Word Slam," where everyone is invited to share a Six-Word Memoir. As these brief stories emerge, students who hadn't thought of themselves as "writers" will be inspired to realize they are; teachers will find ways to incorporate six words into their lessons; and everyone will have a simple and pleasantly addictive new way of thinking about themselves and others.
[Staff Development Session]
Creativity & Community With Six-Word Memoirs
​In just 45-90 minutes, Larry Smith will train your teachers to use a tool that they can bring to their classrooms in countless ways. Six-Word Memoirs®, a short form of storytelling, fits any lesson plan—whether you need an engaging warm-up activity, an effective transition activity, or a memorable way to summarize a unit.
Larry's high-energy, interactive presentation will take your staff on a journey from the small-town pharmacy where his grandfather "Smitty" inspired a lifelong love of storytelling, to the creation of a narrative platform that can engage and inspire students of every grade level and subject. He'll share case studies of teachers who have used Six-Word Memoirs to:
Build community as students collaborate on their Six-Word Memoirs and provide peer feedback
Connect students with a real-world audience via @sixwords and sixwordmemoirs.com
"Gamify" reading comprehension by challenging students to sum up characters from literature and history in exactly six words
Promote writing opportunities by inviting longer "backstories" to accompany the Six-Word Memoirs
Integrate the six-word form into Google Classroom platform assignments, e.g., history classes using Google Expeditions
Combine narrative and art forms via illustrated Six-Word Memoirs, 3-D memory boxes, and more.
Engage all students—from students who need higher-level challenges to reluctant learners and students with special needs. Everyone gets exactly six words, which levels the playing field between teachers and students, across grades and ability levels.
Larry will also walk the group through the free, downloadable teacher's guides on SixWordMemoirs.com, as well as the "Six in Schools" blog with real-world examples of classrooms using Six-Word Memoirs with students.
At the end of the session, Larry asks faculty to share their own Six-Word Memoirs on "Why I teach" and will pose the playful challenge: "How well do you know your co-workers?" This simple yet meaningful exercise builds connections as you learn something new about the people you see each day.
o:
See themselves as leaders who are capable of achieving more within themselves and others
Understand the three aspects of a significant student leader
Create actionable goals that make a lasting difference
Understand their "WHY" as a student leader
Adopt the mindset and methods of peak performers
Commit to ongoing learning and disciplines to aid their efforts
Create a method of accountability for themselves and those they lead
"BELIEVE, DON'T BULLY" – ANTI-BULLYING (Teens)
This incredibly moving and thought-provoking keynote focuses around unifying a student body to RISE UP against putting others down. This message inspires students to believe in their peers and to help students focus on the strengths of others instead of their limitations. Clint understands and teaches that the most effective way to STOP bullying is with positivity, influential mentorship, and cultural unity. Clint currently speaks for the U.S. Anti-Bullying Coalition Government Program as their lead youth speaker with K-12 audiences. His ability to connect and raise awareness in a way that gets results is something every school district and student will benefit from.
LEARNING OBJECTIVES
As a result of this program, audience members will be able to:
Understand the positive effects that can occur when they choose to believe in others, not bully
Adopt methods of how to believe in themselves and others around them
Find strength in good friends and maintaining positive influences in their lives
Understand the greater happiness that can come from being kind
Gain to tools and ideas on how to reach out for support if they are being bullied
Commit to ongoing learning and disciplines to aid their efforts
Commit to standing for kindness in their school
Reviews
Larry's Six-Word Memoir assembly really grabbed the attention of my students and inspired them to believe that everyone has a story to tell! His connection with students was immediate; he had them thinking creatively, laughing, and sharing their own six-word memoirs in a fast-paced "Six-Word Slam." Months after Larry Smith's assembly, my students are still posting Six-Word Memoirs on a six-word bulletin board that went up following his visit. Classroom teachers of all disciplines felt they gained a great teaching tool, and in the words of a seventh grade student, "Writing Six-Worders really helps us convey emotion without writing a whole essay." Beth Abramovitz – Cloumbus School for Girls

---
Larry came on Berkeley High School and blew our English teachers and student body away with class presentations on one visit, and on a second visit presented to a large assembly. After explaining the Six-Word Memoir concept and project, he encouraged our students to write their own brief life stories. The results were astounding. This mode of writing empowered even our shy students and emerging writers to find their voices and share their stories. One of the topic students wrote about was immigration, and many of the memoirs brought tears to my eyes.  Carl Hall – Berkeley High School

---
Over the course of one (very long) day, Mr. Smith engaged and empowered students to find their authentic voices in writing. Perhaps the greatest gift he  imparted was that students felt their stories were important. Larry Smith not only gave hundreds of kids a voice that day, he also have them an ear. He listened to them. He celebrated them. He had photos taken of them with their memoirs. He published their writing. He gave students a way to be heard, and readers a chance to hear. For this, we are especially grateful." Sarah Bunger – Latin School of Chicago
Larry Smith travels from California