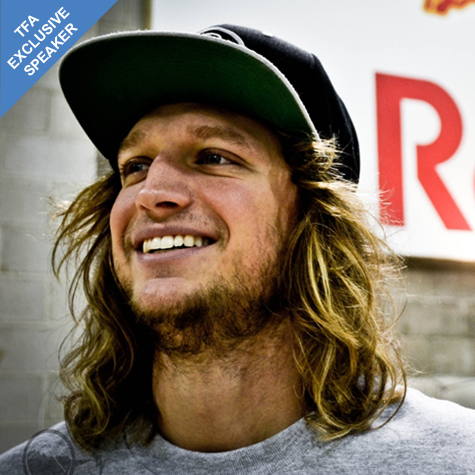 MIKE SMITH
EXCITING, PASSIONATE, REAL.
A native to Imperial, Nebraska, Mike has been speaking professionally for the last 5 years and has been a youth outreach worker for over 10 years. He is the founder and executive director of a 501c3 non-profit in THE BAY and its offshoot, Skate For Change (SFC), both of which have begun to receive national acclaim and support from the likes of Red Bull and State Farm. This past summer, Mike also embarked on his second annual mission of skateboarding across the entire state of Nebraska to raise money for these causes.
Today, Mike spends his days expanding the scope of these ventures. Currently, he is finishing up construction on a 28,000 square-foot facility in Lincoln that will serve as the headquarters for THE BAY and SFC, containing an indoor skatepark, a coffee shop, an art gallery, and a concert venue for local youth to utilize until as late as 2 A.M. on the weekends. Mike has also been traveling the region with his skateboard in tow to help spread SFC to cities like Omaha, Kansas City, Chicago, Cleveland, and the rest of the country. His aim is to one day spread this concept to skateboarders across the world.
Mike is an expert at communicating with kids and encouraging them to make good decisions that lead them to follow their dreams. Mike will come to your school and speak truth and encouragement to your students – he has already made a difference for thousands of students, parents, and administrators across the country!
Students from all walks of life will easily relate to Mike's message and will be inspired to become the change in their community.
Biography
Mike Smith has been a full-time advocate and resource for homeless and runaway youth for the last two years. He meets them under bridges, in abandoned buildings and while they are train hopping. He works hard to help them get into a stable, safe, and consistent living situation.
Mike understands making poor decisions can get you into a tough spot. He knows about hard circumstances that sometimes influence bad choices. Mike uses these lessons to inspire young people to believe in themselves, to dream bigger and run hard to reach them.
The founder of Bay 198, one of the country's only nonprofit skateparks, Mike doesn't just talk about changing lives – he lives it. To raise awareness for troubled youth and funds to help provide them a safe productive outlet, he slept under a bridge for 27 straight nights (many frigid) last winter, and skated more than 430 miles across the state in June 2011.
He is a former All-American college basketball player and avid surfer, snowboarder and skateboarder with more than a decade of experience working with young people. Mike is an expert at relating to young people and communication a message of inspiration and hope that they won't forget.
Mike's latest endeavor is Leadership Live, check it out     http://www.leadershiplive.tv
Speaking Programs
School assembly programs that cover topics such as "Pursuing your passion and defining your dreams", "Substance abuse", "anti-bullying & cyber bullying all-day experience" – including school trainings and parenting classes on cyber bullying assemblies and breakout sessions.
LEAVING A LEGACY – Leadership
Everyone has the capability to be a leader. It takes courage and passion, and sometimes you have to be uncomfortable, but we can all do it. You're leaving a legacy on this world whether you realize it or not.
What you do with your life will boil down to one question: "What do you want to be remembered for?"
FINDING YOUR CALVIN – Bullying
The things that you do and the words that you say leave a mark on someone's life forever. And if you're a bully, that mark is a scar.
When discussing bullying, Mike references his experience in dealing with young people for over a decade as well as his personal experience with a boy named Calvin that changed his life forever.
RECKLESS PURSUIT – Pursuing Your Passions
Mike has accomplished things that few people have done and his reckless pursuit of his passions has been a significant factor in getting there.
In this talk, Mike explains that every decision we make can have a lasting impact on our lives and motivates people to live life intentionally, with purpose, and with a healthy dose of correctly-applied recklessness.
Reviews
Mike was exceptional! He is genuine and honest, and kids need to be exposed to those two qualities as much as possible. Not only does his message apply to students, but it applies to each of us in some way. We teach kids to build their college/career resumes "helping people", and we need to teach them to just help to make the world a little better for someone, anyone, that could use a smile or a meal or a friend-and not just today, that person will likely be hungry or lonely again tomorrow…and the day after that. He made me look at "helping" in a whole new light. I would go see him again and again! – Lisa Chaney – United Against Violence Southeast Nebraska

---

Mike was everything we hoped he would be: funny, inspiring, engaging, real, committed, and accessible. We devoted a whole day to him and it was worth every minute. The kids and staff are still talking about it today. – Jeanne Lemlin – Mt. Everett H.S.

---

Our kids and staff all stated that he was the best speaker they have ever had at a school event. He had both our middle and high school students completely engaged, he connected with them in a way that got them to think about who they are, what they stand for and where they want to go in life.
He is A++ – Tracy Wagner – St. Joseph High School

---

Mike was amazing. Anyone who participated in the assembly took something away from it. He truly spoke to everyone. The parent presentation was outstanding too. We would highly recommend Mike Smith! – Jennifer Baumgartner – Naperville North High School.

---

What can I say: Mike was keynote for opening night of our convention and he was awesome.Students and adults feel that Mike is speaking directly to them. They perceive him as telling an important story about life, not just pulling out the tricks of a professional speaker. When it was over , he hung around for hours talking to the delegates,sharing with them, and letting them share with him. It was a great start to our weekend. – Dan Tollison – South Carolina Association of Student Councils State Conference

---

Mike was an amazing speaker. He was articulate but yet so down to earth. He spoke to 1600 students at one time and they were all engaged. The information he spoke about was all relevant to the students and really made them speak. We had close to 400 students stay for the small group session and the questions that came from the kids were amazing. Mike did a great job answering them and gave the student something to think about.  I would highly recommend him to speak at any school.  – Rebecca Saffert – Cary-Grove High School
Mike Smith travels from Nebraska