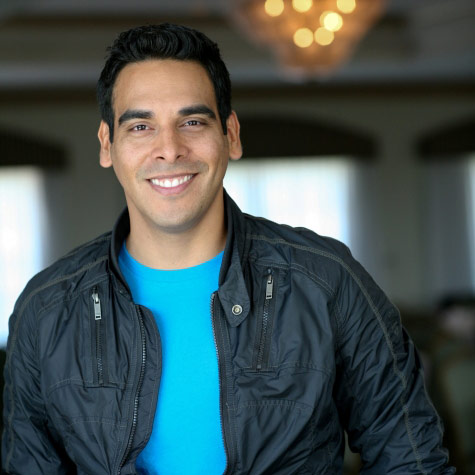 Born to a teen mom and abandoned by his biological father, Gabe Salazar could have become a statistic. Instead, his energy, tenacity to succeed and enthusiasm led him to become a motivational speaker for teenagers. It wasn't easy. He had to overcome obstacles of poverty and gang influence to become the first in his family to go to college. He attended Southwestern Assemblies of God University in Waxahachie, TX and pursued a degree in Theology. He worked in Texas at a school as an aide with at-risk and behavioral students, and he was a church youth pastor. He soon discovered an amazing talent to inspire teens to go after the very best that life has to offer, so he pursued professional youth speaking as a full-time career.
Biography
Pursuing professional youth speaking as a full-time career was certainly the best decision Gabe could have made! Today, Gabe travels all over the world speaking at schools, teen conferences, and teen camps. Through the use of master storytelling, humorous stories about his youth, and powerful skits, Gabe's message inspires and motivates his audience to action.
After Gabe's keynote address, gang members have turned over their gang rags, a teen handed over a knife he intended to use on a boy who had been bullying him, and a teen mom told Gabe she was planning to take her life and her baby's life, but after hearing his message, she changed her mind. Gabe considers his speaking career to be extremely fulfilling.
He speaks at more than 160 schools and teen events a year. This year he crosses a milestone by celebrating his 2 millionth student reached. He's recognized as America's #1 Latino Youth Speaker by Popular Hispanics Magazine. Gabe's message challenges teenagers and encourages them to make positive choices in their lives and to dream big. Gabe lives in Los Angeles, California with his wife, Nancy and four children.
Speaking Programs
"Connecting Choices with Consequences"
Motivational Youth Speaker Gabe Salazar overcame obstacles of homelessness, hopelessness, and gang influence to become the first in his family to go to college. Through the power of education, Gabe Salazar is a renown youth speaker who travels around the world making teenagers laugh and motivating them to make positive choices. In his message about choices, Gabe encourages teens to avoid life's pitfalls such as drugs, alcohol, school violence and bullying, and instead dream big and create a plan to make that dream come true. Anyone can do it… Gabe says if he can go from being homeless only having a station wagon and taking towel baths before school growing up in Houston, and now he lives in Los Angeles overlooking the Pacific Ocean, he believes even greater for the youth of today. It's all about connecting choices with consequences, and thinking before taking action.
Reviews
Homerun! Gabe Salazar is a talented speaker with an uncanny ability to connect with both youth and adults. His message is one of hope, challenging youth to have goals and dreams and make positive life decisions. I've listened to many speakers, but Gabe has a way of instantly connecting with people. He has an easy going way about him, but on stage, he is very POWERFUL and puts all of himself into it. Gabe hits a variety of topics and is able to draw youth out of their shell. I can't speak highly enough about Gabe. His genuineness comes through upon first contact.. – Cathy Kelley – Sunnyside School District

---
Gabe Salazar travels from Texas