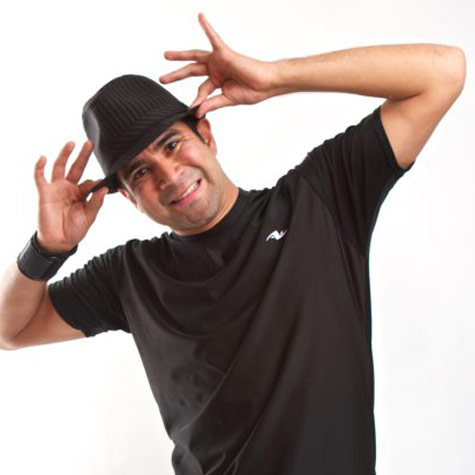 PATRICK PEREZ
MAD SKILLS FOR STUDENT'S SUCCESS
With shows like America's Best Dance Crew and Dancing With the Stars tearing up the airwaves you might think you've seen it all… until now! Get your students ready for some caffeine for their dreams and some sugar for their souls because their lives are about to get a lot sweeter!
Like many pop culture icons of today Patrick "Pac Man" Perez realizes that today's youth are a sight & sound generation in need of an attention grabbing performance. Add a twist of music with a dash of dance and BAM , you have a student success program that is right up their alley.
Patrick combines the eye-catching style of break dance(b-boying) with student success principles that deal directly with drug and alcohol prevention, academic success, drop out prevention, choices and pregnancy/STD prevention.
Biography
No other student success program offers the style and flavor that Patrick brings! Patrick has break danced to over 300,000 people across the USA, Canada, Mexico and Germany. Patrick's passion is to use his gifts in order to reach out to those students who are in need of hope, encouragement or just a good kick in the pants to get going!
Besides speaking in schools across the country he has also been featured at:
Student Council National Conference
Family, Career and Community Leaders of America (FCCLA) National Conference
National Guard Youth National Conference
Apart from his speaking career, Patrick is also the author of "Mad Skills For Student Success: 10 Choices You Can Make to Get Better Grades, Create an Amazing
Future and Take Control of Your Crazy Life!" He earned his Bachelor of Arts degree in Communication Studies from the University of Texas at El Paso and a diploma in Christian Life Studies from Texas Bible Institute.
His impact in his local community garnered him the 2006 El Paso Small Business Administration's Young Entrepreneur of the Year Award. He has also earned honors from the National Speakers Association and Toastmasters International. After hosting several of his own regional and international level street dance competitions he was approached by Red Bull Energy Drink in 2007 to collaborate on a state-wide Texas vs. New York high school break dance competition. He continues to give away hundreds of dollars in scholarships each year to winners of these positive, drug-free events!
Give your students a program they want to see with a message they need to hear!
Speaking Programs
Mad Skills For Student Success! – Conference Keynote/School Assembly (45-60 min)
Open a can of Red Bull, mix it together with healthy principles like choices, goal-setting and continuing education, add a splash of energetic music and a dash of audience interaction and you will have a taste of Patrick's Mad Skills For Student Success Program!
Your students will savor Patrick's fresh dance moves and funky humor as he effectively challenges them to accept who they are, take responsibility for their choices and strive for academic and personal success.
This program will have your audience up and moving, laughing and dancing all the while learning mad skills for their success! Remember to give your students that extra edge to succeed by investing in some copies of Patrick's new book "Mad Skill for Student Success: 10 Choices you Can Make to Get Better Grades, Create an Amazing Future and Take Control of Your Crazy Life!"
*Select program packages include 50 copies of Patrick's book for your students.
This program focuses on these developmental assets as compiled by the Search Institute:
# 5-Caring school climate
#35-Resistance skills
#21-Achievement motivation
#37-Personal power
#30- Responsibility
#39-Sense of purpose
#31-Restraint
#40-Positive view of personal future
#32-Planning and decision making
Patrick Perez travels from Texas