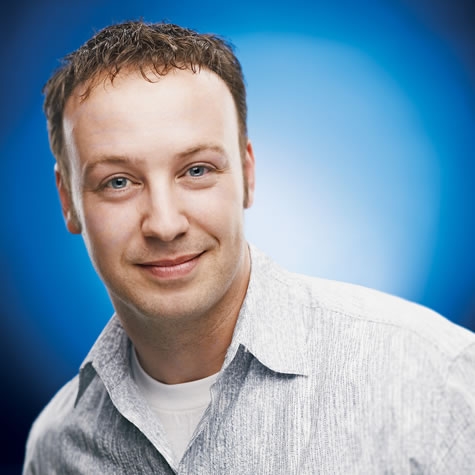 Judson Laipply has been described in many ways by many people. Perhaps the perfect description came early in his speaking career when someone called him and "Inspirational Comedian" and the combination was right on.
Funny enough to be a comedian (he won the only contest he ever entered), educated enough to teach college (he taught several classes and turned down an offer to teach full-time), and lucky enough to learn that combination is one of the most powerful mediums for addressing anyone.
People like to laugh and people like to learn. Judson gives all of his audiences both. His keynotes or assemblies are the perfect balance of laughter and thought-provoking ideas.
Biography
His finale "The Evolution of Dance" (a hilarious routine of the last 50 years of popular dance moves) has been hailed as "The funniest thing ever" and ends his shows on a super high. From the moment he steps on stage until he dances away his audiences are laughing and learning!
His wide background of experiences including: working on a cruise ship, managing a Dominos Pizza, being a published author and poet, earning a Master's Degree in Education, Hosting the Miss Minnesota and Miss South Dakota USA pageants, being a certified aerobics instructor, and much more allow him to relate to almost any audience. Winner of many awards including Speaking of the year by campusawards.com and his favorite "Coolest Uncle" by his 7 year old nephew.
Speaking Programs
Inspirational Comedy
His most requested show – "Inspirational Comedy" is just that – funny and inspiring! Judson talks about the two main realities in life:
1. There are things in life that you cannot change.
2. There are things in life that you can change.
By helping students to understand the difference between the two and by showing them how to control the things they can Judson gives students the simplest formula for creating the life they want. You can create any change in your life through the choices you make.
This program can be molded for many different topics with specific examples and explanations and has been presented on bullying and respect, alcohol and drugs, general motivation, classroom commitment, and much more.
Capped with "The Evolution of Dance" this program is one that people never forget.
From Playdates To Prom: Relationship And Dating In Youth
Times have changed since the good old days of going steady and wearing a guy's letterman sweater. Fact is
young people are more educated and informed about dating and sex than their parents were. Or are they?
This program will cover basics of relationships such as: Stages of a relationship, Understanding Attraction, ways to tell if someone is interested, common myths, Characteristics of Healthy Relationships, and much more. Sexual education can be included or excluded depending on the school preference.
Dating, relationships, and sex take up a large chunk of teenager's thought process and most of the time they are unaware of what is going on. Things they see on TV or at the movies become reality to them. This program assists by being educational and entertaining while helping students to better understand their relationships.
Other Topics And Programs
Don't Forget About The Teachers – Teacher in-service
Wink or a blink: Intention vs. Perception – Communication and leadership
5 L's for Living – Life development and esteem
Selling Sand in the Dessert – Marketing and advertising
Why I Am Better Than You: Bullying and Status – Bullying and respect, diversity leadership retreats and extended training

.
Judson Laipply travels from Ohio