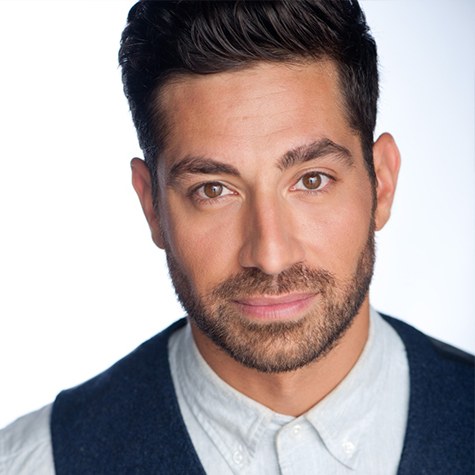 Johan has established a reputation as an inspiring motivational speaker with a straightforward and entertaining, yet deeply provocative message.
A product of Humboldt Park Chicago, an area known for it's gang violence and crime, Johan was able to move past the obstacles and traps that ensnared so many of his peers and live a life that was far from ordinary. His dreams, choices and determination took him from inner city of Chicago to a national speaker who uses his life story to help people of all ages believe in the power of their dreams and the impact their life can make in the world around them.
Johan's ability to connect with the audience is a rare gift and is one you don't want your audience to miss.
Johan is a TEDx speaker and he's been on TV and Radio shows, like The Tyra Banks Show, WLS Radio, The Today Show and Jane The Virgin.  He is also one of the lead counselors and educator  for the CANDO program in Chicago.
Speaking Programs
The Crazy Ones
Audience: Teens or Young Adults
Length: 45-60 minutes
"The people, who are crazy enough to think they can change the world, are the ones who do."
Have you ever met someone who is crazy?
Not the kind where you're confined to a straight jacket and restricted to 'Shutter Island'.
I'm talking about the kind of crazy that you don't understand at first or second or fifteenth glance. The crazy that sits in silence and hears a song that has never been written, the kind that stares at an empty canvas and sees a work of art or gazes at a red planet and see's a laboratory on wheels.
Johan believes that we all have a little bit of crazy in us that is waiting to be unleashed. His story is CRAZY, to say the least. He is a product of Humboldt Park Chicago, one of the roughest areas in Chicago; an area where he has witnessed everything from friends being killed to family members living destructive lives. An area of Chicago, he was told, he would never get out of. An area where, he was told, he would never make it, never amount to anything, never succeed, never create, never inspire.
Johan refused to believe the messages of his environment. Instead, he was crazy enough to believe his life could make a difference. He was crazy enough to make choices that no one else was making; he decided to live a life worth living as a teen and young adult.
Now he is spending his life encouraging kids to be crazy enough to think that their lives can make a difference. While others use their voice to be "realistic", Johan motivates kids to move past reality and begin to dream and create even the craziest of possibilities for their lives and the world around them.
Topics Covered in The Crazy Ones Include…
• The Power of Healthy Choices
• The Importance of Goals and Dreams
• Critical Thinking
• Striving for Excellence
• Believing in yourself
• The Significance of Good Role Models
• Becoming an Agent of Change
• Withstanding Peer Pressure
Strength And Honor: Manhood And The Masculine Journey
Audience: Teens or Young Adults
Length 45-60 Minutes
I'm A Real Man! Those words spill out of the mouths of males of every shape, size, age, and color. But what do those words really mean? Have we really figured out the mystery of masculinity? Do we know what a real man looks and acts like? Or have we bought into our culture's perception of manhood and masculinity?
In this informative and thought-provoking session, Johan leads us through some of the primary misconceptions of manhood and then unveils the primal essence of a "man"…
Because being a "man" and a male aren't one in the same.
Topics covered in "Strength and Honor" Include…
• The Top Misconceptions of Manhood
• The Result of false "Manhood"
• Masculinity defined
• The True Essence of a Man
Reviews
Johan was an excellent speaker.  He spoke to three different groups of students.  Audience size ranged from 500 to 900 students in grades 9-12.  His message of perseverance, be the change you want to be and "to be a little crazy" left an impact on our school. He was professional in every way.  We would definitely have him back again. – Nathan Jones – Torrance High School
---
Johan engages the audience the entire time that he is speaking. He is impactful in a way that youth can directly relate to him even if they grow up in a different environment. He left our schools more uplifted and feeling like their dreams can become a reality!. – Barbara Weaver
– Sierra County Health and Human Services
---
WOW! So delighted with Johan. Solid person with a great message. Frankly, he was much better than what his video and bio led on. He has a great way of gauging the audience and Engaging the audience. There were moments of great laughter, great applause and some of absolute silence as well over 1,000 young people waited to hear what he had to say. Likewise, we received some of our best reviews to date and we have been doing this event or similar events for 9 years. Johan is a must have. – Lisa Wyman – AVID Celebration
---
Excellent speaker who left the audience wanting to hear more. I would recommend him to any FFA Association needing a convention speaker.  – Dave Wyrick – State Executive Secretary –  Michigan FFA
---
He was great! The kids responded EXTREMELY WELL. He was also gracious enough to adapt to our unexpectedly failing sound system. He was fantastic! – Linda Gonzalez – Livingston High School
---
Johan connected with our students on a whole new level. He made them laugh, brought them to tears, and tapped into their passions to make a difference in their communities. He was authentic, honest, and made such a positive impact on our student leaders!  –  Molly Tomlinson – Sierra County Grayslake North High School
---
 Johan did an incredible job speaking to our students and supporters. He easily transitioned his speech to meet the needs of both audiences and we loved how relatable he was. Very inspirational!  – Stevi Price– Sierra Decatur City Schools Foundation.
---
Reinforcing our themes of Responsibility, Respect and Resilience, Graduation Matters sponsored our motivational speaker, Johan Khalilian . In the small group and in assemblies with the Class of 2022 and 2023 he challenged us to think outside our current situations and see our potentials. He shared Rob Stiltanen's quote of The Crazy Ones and challenged us to make our school, our community, and our world a better place. While in his professional life, Johan has been on the Tyra Banks Show, Jane the Virgin, has written books, and tours as a speaker, in our morning, he was simply someone else who grew up beyond his hometown to become who he wanted to be, despite the odds.  – Susie Honaker Wirzbicki
–  Shelton High School
---
Johan Khalilian travels from California