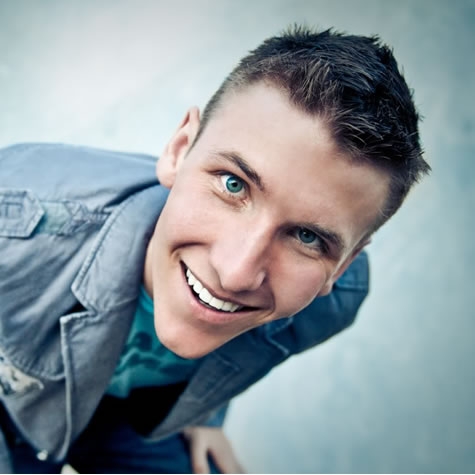 SCOTT BACKOVICH
YOUTH SPEAKER, TEEN EDUCATOR, (SELF-PROCLAIMED) GENIUS
Pop culture-referencing, Facebook-poking, teen advice whiz Scott Backovich is making a significant impact on tens of thousands of students in audiences around the United States and Canada.
Biography
Witty by nature, caring at heart: for youth speaker Scott Backovich, this is merely the tip of the iceberg. Scott's quirky yet powerful style and message speak to students at their own level, helping them to understand the true potential they hold.
Scott recognizes the monotonous cycle that students can undoubtedly fall into while in high school. After spotting the pattern during his own sophomore year, he decided to be bold and make a change. By the age of 21, Scott had presented to thousands of students, appeared as a guest on international radio and student leadership podcasts, and had gained positive recognition around the United States for his compelling message.
As someone still in his 20's, Scott realizes that students today need to be reached in new and innovative ways. From cell phones to Twitter updates, Facebook to YouTube, teens have both grown up in and created a culture that has redefined what it means to connect. Scott understands. He has dedicated his life to connecting with and empowering students everywhere. On any given day, he can be found not only speaking on stages around North America, but also reaching out to teens on various student-based sites. For Scott, it's not about talking at students; it's about connecting with them where they are.
"Those bad things that have happened to you, that baggage that you have? It does NOT define you. How you choose to grow from it, will."
Today, Scott resides in Southern California amongst friends and family, who inspire him daily. When not speaking onstage, he can be found exploring Disneyland, relaxing with friends, or wrapping up in a warm Snuggie (yes, we're talking about the blanket with sleeves)
Speaking Programs
Be A Catalyst
Scott's presentations begin as a giant party. In one moment, students are laughing hysterically, moving actively on their feet, and shouting "ROCK ON!" at the top of their lungs. Yet only minutes later, that same room is silent; students find themselves hanging on to every word of Scott's heartfelt and challenging message. It is at this point that the students in attendance realize they are no longer watching a presentation to an audience of hundreds or even thousands—they are hearing their own personal call to action.
Scott gets that students have a HUGE impact on those around them—from their casual acquaintances at school to the close friends they see virtually 24/7. Each and every student has the power to influence their world in some way, shape, or form. Before changing anything, though, each student must undoubtedly recognize that the world in which they live is not perfect by any means. It takes passion and determination to make it a better place.
Regardless of the situation, capacity, or context, the only way students will truly change their circumstances is if they decide to be a catalyst—someone who changes the status quo.
Past Speech Topics / Workshops Include
Respect
School Spirit
Issue Awareness
Standardized Testing
Freshman Orientation
Senior Institute Days
Bullying
Public Speaking
Student Activity Planning
and many more…
Reviews
Scott is different because he doesn't demand anything. He simply asks students what they should be demanding from themselves and from each other… getting them to aspire to a higher calling, a higher purpose. Scott's speech laid the groundwork for our entire leadership program." – Craig Sutpfin –
Director of Student Leadership, St. Mary's HS, Berkeley, CA

---

Scott was phenomenal! He was so great that I could not pass up the opportunity to include him in our seminar next year. One simple word to describe Scott – OUTSTANDING!! – Chenique Murphy – Hugh O'Brian Youth Leadership Seminar

---

Scott had great energy for our school and ASB students. I'm excited to see what "next steps" come forward in my leadership classes from what Scott presented. One thing that I wish I would have known ahead of time was what to tell expectation wise of my student leaders. To be more specific, would it have been better to present to a smaller group who could be at the training all day or a larger group where there were people who couldn't be at the training all day. Other than that, I'm excited to work with Scott for the next couple of years and see where the climate of our school takes us 🙂  – Elisabeth Kowalski – Inglemoor High School

---
Scott Backovich travels from California